Usługi BV Serwis is a company specializing in 24h support services and maintenance of IT infrastructure of her Clients on the territory of Poland. We provide outsourcing services, support IT departments of our Clients by means of extending their possibilities or...
We offer a visualisation, automation and tasks integration system for buildings with the use of  EIB/KNX.
In every modern building there is a number of systems having their own computer control. It no longer concerns only more advanced elements (alarm, work-time control, ventilation) but also simple devices such as amplifiers, coffee makers or even fridges. Simple electrical network built in a  EIB / KNX standard also included in this intelligence all the other devices (lamps, switches in the walls)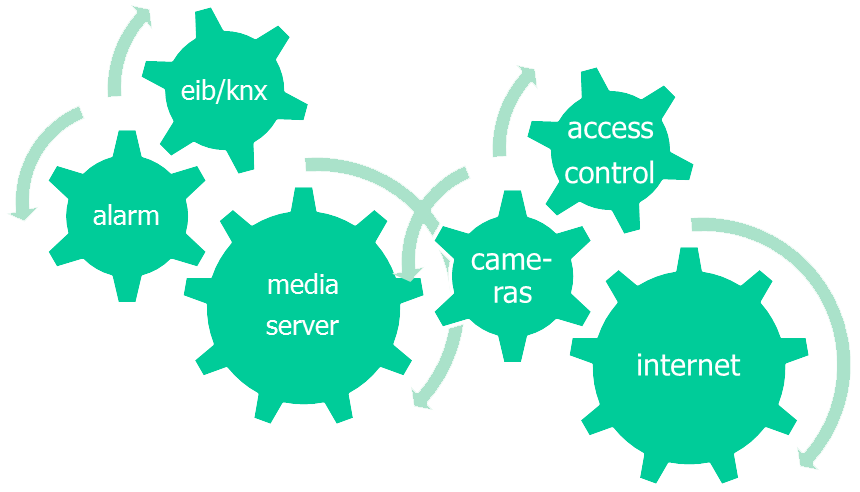 Our system may be applied in all such types of buildings. It realises the following main tasks:
An advanced control of everything in a building – this means adding more intelligence to the already present less intelligent elements of the system, both simple actors and EIB sensors as well as other sub-systems (heating, audiovisual system, watering) which we integrate with EIB.
Visualisation of the processes taking place in a building – this makes management easier, it humanises the intelligent building's system. Visualisation is realised with any web browser.
Integration with any system –  EIB/KNX system can be connected to any other autonomic sub-systems which, until now, have been very difficult to connect with EIB. This concerns for example watering, CO and ventilation systems etc. which have their autonomic intelligence albeit they are not equipped with the standard KNX interfaces. That allows connecting not compatible sub-systems to one homogeneously managed system.  It also gives an advantage in points where EIB/KNX interfaces exist but are very expensive (eg. A KNX thermometer for 1500EUR)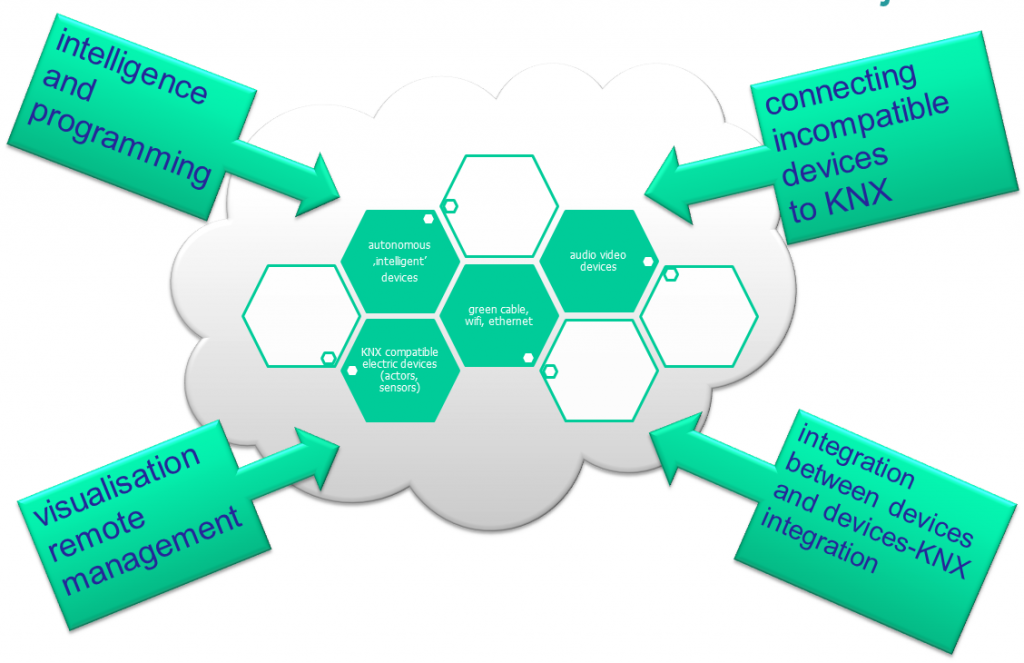 Our system's advantages:
Great reliability – we add more intelligence and at the same time retain the autonomy of functioning of the respective sub-systems (alarm, work-time control, watering, lighting etc.). Breakdowns on the intelligence and integration levels do not influence the current functioning of a system.
Low price – the system works on any equipment platform, even set-top-box devices.
Easily configurable – after launching our system it is possible to reconfigure intelligent building system from the user's level without the use of the ETS programme.
Flexibility – configuring the objects and interactions between them in a form of XML files, user's interfaces modification directly from those interfaces etc.